By Martin Surridge – For much of the twentieth century, Poland served as a sort of punching bag for many of Europe's strongest armies. Half a million Polish soldiers died in the First World War, the country was brutalized by the Nazis in the Second World War, and for the last half of the century, Poland was repressed by Soviet-inspired communists in Warsaw. Today, Poland is struggling with a completely different set of problems, many of which are common to Europe as a whole–immigration, the expansion of the E.U., and changes in cultural norms that accompany a demographic shift. In addition to these already vexing concerns, Poland is also grappling with the problem of where to draw the line in the case of free speech and offending religious sensitivities.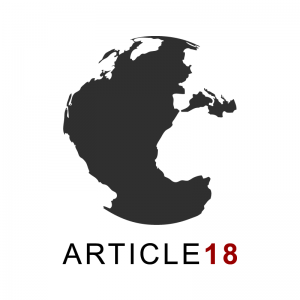 This is Article18-RLTV's weekly blog specifically dedicated to religious liberty issues in other countries around the world. Each week, we profile a different nation, and the struggles facing one of its religious communities. This week, Poland, where citizens in Bialystok protest against horrendous statements of antisemitism and a death metal singer is allowed to go free after ripping up a Bible during one of his concerts.
During the Second World War, what was arguably history's most deadly and vicious assault on religious liberty  took place in the unassuming countryside of Nazi-occupied Europe. Almost half of the Jews killed in the Holocaust were from Poland. That number is approximately three million. Ninety percent of Poland's Jews were murdered in Nazi concentration camps, and today, in some towns, the only legacy of that tragedy is a plaque or a statue of remembrance. So last week, when local "vandals used green paint to spray a swastika and 'SS'" on a monument dedicated to the hundreds of Jewish villagers who were burned alive in Jedwabne village during the Holocaust, protesters took to the streets demanding an end to the "wave of thoughtless hatred."
Other hostile phrases such as "I don't apologize for Jedwabne" and "They were flammable" were spray-painted onto the monument. The march was led by Sen. Wlodzimierz Cimoszewicz and the mayor of the city of Bialystok as well as other concerned citizens.
The AP reports that those attending "The 'March of Unity' walked in silence from the city center to a monument of Ludwik Zamenhof, a Jewish doctor born in Bialystok, who invented the Esperanto language. It occurred without violence or arrests, despite a counter-demonstration by people chanting nationalist slogans."
Sadly, this is not an outlying incident–"Other recent anti-Semitic or racist attacks in Poland have targeted a synagogue in the village of Orla, a Muslim center in Bialystok, and the Lithuanian minority in the Punsk region."
A lack of respect for the religious beliefs of others seems to be a common trend in Poland as of late. But in some scenarios, acts of religious intolerance fall within the bounds of free speech, as in the case of Polish death metal singer Adam Darski.
"Adam Darski, who goes by the stage name Nergal and is the frontman for the death metal band Behemoth, was charged after he ripped up the Bible during a 2007 concert in Gdynia, in the country's north." Three weeks ago, "a Polish judge found a death metal singer innocent of offending religious feeling, ruling that his ripping up of a Bible during a show was a form of artistic expression consistent with the style of his band."
Poland is a strongly Roman Catholic nation, with almost 90% of the country identifying themselves as such. So when Darski ripped pages out of the Bible, tossed them to concert-goers and instructed them to burn them, he was charged with offending religious feeling. But after the court explained that it had no "intention of limiting freedom of expression or the right to criticize religion," Darski celebrated the verdict on his website writing, "I'm so glad to see that intelligence won over religious fanatics in my home country [but] there's still so much work to be done to make things right."
The line between free speech and criminal defamation of a religious group can sometimes be rather thin and some insensitive hardliners in Poland will probably accuse the law of double standards. But surely there is a noticeable difference between these two incidents.
Matthew Kramer is a close friend of mine from college, an amateur entertainment journalist and serious fan of heavy metal. Along with Brad Kenyon, who created the logos for this blog, and RLTV contributor David Ranzolin, Kramer and I ran our college's biweekly student newspaper. He saw Darski's death metal group, Behemoth, in concert a few years ago and while nothing outrageously provocative occurred–other than the usual screaming and ear-piercing music–he explained what separates even the most offensive art from criminal, racist acts.
"There is a difference," Kramer said. "When the Bible is torn up on stage some people are offended, just like with the Koran."
"But vandalizing a Holocaust memorial is worse because of the associated pain. There are still people alive who had family members killed during that time."
Article18 is a weekly blog written by Martin Surridge, Associate Editor of Religious Liberty TV. Article18 logo and other artwork created by Bradley Kenyon.
*     *     *     *     *     *     *     *     *     *     *
Don't forget to check out other recent Article18 entries.
Article18: Kosovo — Muslim Headscarf Ban Upheld for Schools; Christians Required to be Buried in Islamic Graveyards
Article18: Pakistan – Christian Flood Victims in Punjab Face Land Discrimination in Disaster Aftermath
Article18: Norway – Personal Reflections on the Origin of a Tragedy

Article18: Uzbekistan – Recent Incidents of Violence Against Christians Alarm Religious Minorities
Article18: Cuba – Three Protestant Pastors Interrogated; Roman Catholic Church in Havana Helps Free 126 Prisoners of Conscience