By Martin Surridge – The former Soviet republic of Uzbekistan occupies a precarious and oft-forgotten spot in Central Asia. Unlike other egregious religious liberty offenders such as Saudi Arabia, China, and North Korea, Uzbekistan is discussed little in the United States and is not well-known for any one thing. Unfortunately, it is often lumped in with its immediate neighbors, the other "stans"–Afghanistan, Turkmenistan, Kazakhstan–and the relative global anonymity Uzbekistan receives seems to aid its government as it continues Soviet-era trends of oppressing and abusing religious communities.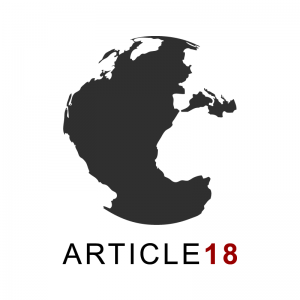 This is Article18-RLTV's weekly blog specifically dedicated to religious liberty issues in other countries around the world. Each week, we focus on a different nation, and the struggles facing one of its religious communities. Our apologies for last week–no new entry was posted because of server maintenance for the RLTV site. This week our focus is on  Uzbekistan, where several violent incidents of persecution targeting Christians were reported last month.
The U.S. State Department designates Uzbekistan as one of eight "countries of particular concern" in regard to religious liberty violations. Along with Uzbekistan, the short list of CPCs includes the worst of the worst–North Korea, Iran, China, Sudan, Eritrea, Burma, and Saudi Arabia. Additionally, the United States Commission on Religious Freedom (USCIRF) has called for Egypt, Iraq, Nigeria, Pakistan, Turkmenistan, and Vietnam to be added to that list.
Independent since 1991, Uzbekistan, a majority Sunni-nation, is attempting to quell any potential threat to its totalitarian government by cracking down even harder on dissident groups, including Christians, after the series of uprisings known as the Arab Spring rocked the greater Muslim world earlier this year. Uzbekistan requires religious groups to be registered with the government and for President Karimov's regime in Tashkent, the spread of any charismatic, foreign religious group is doubly threatening, given that Uzbekistan is both 93% Muslim and has a strong, often menacingly present communist legacy. Of the remaining 7%, the largest religious group are Russian Orthodox, approximately 4%, but their numbers are dropping, as are Uzbekistan's Jews, who, along with the Orthodox Christians are emigrating by the thousands to safer, greener pastures.
Several recent incidents, violating the religious liberty of Uzbek Christians, caused alarm for many international observers. Worthy News's Michael Ireland says that "according to the World Evangelical Alliance – Religious Liberty Commission, a Christian woman was beaten into concussion, another woman was fined $1,465 by a court for giving the New Testament to a child, a Christian man was threatened with axe attack by a police official and another man was assaulted by police."
The status of non-Orthodox Christian groups, such as Baptists and Seventh-day Adventists, in Uzbekistan are often in limbo. The 2010 International Religious Freedom Report reports that "no Baptist church has successfully registered since 1999, and since 2000, four Baptist churches have lost their registered status." Additionally, "other churches remained unregistered [including] Bethany Baptist Church in the Mirzo-Ulugbek district of Tashkent; the Pentecostal Church in Chirchik; Roman Catholic churches in Navoi and Angren; Emmanuel Church and Mir (Peace) Church of Nukus, Karakalpakstan; Hushkhabar Church in Gulistan; the Pentecostal church in Andijon; and the Adventist church, Greater Grace Christian Church, Central Protestant Church, and Miral Protestant Church, all in Samarkand."
Interestingly, the report made a point to say that "the Russian Orthodox Church reported no registration problems."
Sadly, such brutal state control is almost common place in Uzbekistan. In his analysis of the 15 former Soviet republics, Foreign Policy's Joshua E. Keating not only labelled the country as "not free" but explained that Uzbekistan is "routinely ranked by international NGOs as one of the world's most brutal dictatorships. Under Karimov's rule, opposition parties are prosecuted [and] torture of political prisoners is commonplace." The nation also has an atrocious human rights record, most noticeably in "the 2005 Andijan massacre, during which hundreds of anti-government protesters were killed in the country's east by government troops."
Uzbekistan has struggled frequently with Islamic militants, both real and imagined, combating the Islamic Jihad Union as well as demonizing Wahhabi Islam and equating its follower with terrorists.
Finally, and perhaps most importantly, the 2010 IRFR explains that the Uzbek government, completing its total invasion into a citizen's private life, "does not prohibit a person from changing his or her religion [and] the private teaching of religious principles and the teaching of religion to minors without parental consent is illegal. Only a religious group with a registered central office may legally provide religious instruction."
For a nation so infrequently discussed during dinner time, there's certainly an awful lot of food for thought.
Article18 is a weekly blog written by Martin Surridge, Associate Editor of Religious Liberty TV. Article18 logo and other artwork created by Bradley Kenyon.
*     *     *     *     *     *     *     *     *     *     *
Don't forget to check out other recent Article18 entries.

Article18: Mexico – Confirmed Presence of Major Islamic Terrorist Group Near U.S. Border; Former Killer Preaches to Violent Gangsters
Article18: Laos – Four Christian Women Raped and Executed by Laotian Military Along Vietnam Border
Article18: India – Christan Pastor Bludgeoned in Front of His Children; Government Blames "Predatory" Evangelistic Efforts
Article18: Afghanistan – Quran Burning Protest Leaves Dozens Dead; Freed Christian Convert Flees Country
Article18: France – Controversial Veil Ban for Muslim Women Continues to Divide Nation